CLR Calcium, Lime & Rust Remover
Need to tackle tough calcium and lime deposits as well as rust stains?
CLR Calcium, Lime & Rust Remover is a powerful formula that quickly and easily dissolves and removes tough calcium and lime deposits as well as surface rust stains from bathtubs, toilet bowls, sinks, glass, chrome, fiberglass, stainless steel, kettles, humidifiers, dishwashers, washing machines and showerheads.
The formula also is ideal for use on caravans and boats. CLR Calcium, Lime & Rust Remover is part of the EPA's Safer Choice Program recognising the product as a safer alternative to chemicals. The fast-acting, powerful CLR formula is septic-safe and contains no phosphates. Always spot test in an inconspicuous area before beginning to clean.
What can you clean with CLR ?
CLR cleans what many household products can't. It dissolves and removes tough stains from the build-up of calcium, limescale and surface rust from hard water. You may not know what these are but chances are you're living with them. Some examples where CLR can be used are;
poor performing showerheads
dishwashers
washing machines
shower screens
inside your kettle
on your taps inside and outside
toilet bowls
sinks
on cloudy glass inside and outside
chrome
fiberglass
stainless steel
humidifiers
surface rust stains on tools
taps
Plus many more.
If you have a specific surface that you would like to know can be cleaned with CLR, search the material on our Frequently Asked Questions to find the answer. If it is not there – contact us.
When you say diluted, how much water to CLR do I use?
Use equal parts CLR to water i.e. 1 cup CLR mixed with 1 cup water.
Is it septic safe?
Yes, CLR is septic safe
How do I use on a stain in my toilet?
Wear household gloves. Mix equal parts CLR and warm water. Apply directly to stain with a brush, cloth or sponge. Rinse promptly with cold water. If the stain does not disappear use CLR full strength, wipe and rinse properly.
How long should I leave CLR on the stain for?
We recommend you do not leave on the stain for longer than a few minutes. Do not leave CLR on the stain and walk away from it. Always rinse thoroughly.
Can I use CLR on my car (radiator, window etc)?
No. Not recommended for use on cars as it may damage paintwork and/or interiors.
Can I use on my chlorinated swimming pool tiles?
No. CLR can react with pool chlorine leading to potentially dangerous reactions which must be avoided.
What is the main ingredient in CLR?
Calcium Lime Rust, more commonly known as CLR, is a household cleaning product used for dissolving stains, such as calcium, lime, and iron oxide deposits. Its ingredients include water, lactic acid, gluconic acid, lauramine oxide,Propylene Glycol, n-Butyl Ether, and solvents that dissolve cobalt gel coats and paint.
How do you use CLR?
Test the solution on a hidden area before applying to the entire surface. Apply directly to the calcium, lime or rust stain with a brush, cloth or sponge and rinse promptly with cold, clean water. Never leave CLR on an area for longer than two minutes.
Safer Choice
Finding cleaning and other products that are safer for you, your family, and the environment should be easy — that's why the U.S. EPA developed a Safer Choice label. We all play a role in protecting our families' health and the environment. Products with the Safer Choice label help consumers and commercial buyers identify products with safer chemical ingredients, without sacrificing quality or performance.
CLR, CLR Bathroom and Kitchen, CLR Outdoor Furniture Cleaner all wear the Safer Choice label to communicate that the product's formula contain ingredients with more positive human health and environmental characteristics than conventional products of the same type. They are also biodegradable.
(9337347000136)
| | |
| --- | --- |
| SKU | 9337347000136 |
| Barcode # | 9337347000136 |
| Brand | CLR |
| Shipping Weight | 1.0000kg |
| Shipping Width | 0.200m |
| Shipping Height | 0.100m |
| Shipping Length | 0.050m |
| Shipping Cubic | 0.001000000m3 |
Be The First To Review This Product!
Help other Glues Australia users shop smarter by writing reviews for products you have purchased.
Others Also Bought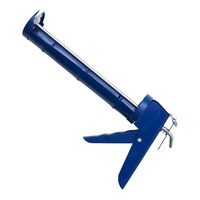 Caulking Gun for Standard Cartridges Durable Steel
$6.00
More From This Category