GorillaWeld is an incredibly strong, heavy duty two-part adhesive. The tough, steel bond epoxy formula has a 4250 PSI bond strength and sets in just 10 minutes. GorillaWeld is waterproof and versatile, creating a long-lasting, permanent bond to metal, plastics*, concrete, ceramics, PVC, fibreglass and more!
Features:
INCREDIBLY STRONG: 4250 PSI
STEEL BOND EPOXY
SETS IN 10 MINUTES
WATERPROOF**
FORMS PERMANENT BOND
DRIES DARK GRAY
EASY TO USE
BONDS: Metal, Plastic*, Concrete, PVC, Fiberglass, Ceramic & More!
*Not recommended for use on polyethylene or polypropylene plastics.
**Bonded wood materials should not be submerged or soaked in water.
Directions
All surfaces should be clean and free of debris. To improve adhesion, roughen smooth surfaces with sandpaper before gluing.
Remove cap from each tube and use top of cap to puncture foil seal.
Dispense equal parts from each tube onto a clean, disposable surface.
Mix with disposable mixing tool for approximately 20 seconds until the colour is uniform.
Apply mixture to surface within 3 minutes.
Clamp surfaces together and leave undisturbed for 10 to 30 minutes. Full cure in 24 hours. Cure time dependent on temperature, humidity and quantity applied.
*Note: Not recommended for use on polyethylene, polypropylene or similar plastics.
Specs:
APPLICATION TEMPERATURE: 32°F to 90°F
SERVICE TEMPERATURE: -40°F to 300°F
SET TIME: 10 minutes
CURE MECHANISM: 2 Part Reaction, requires mixing
OUTDOOR: Yes
FREEZE/THAW STABLE: Yes
WATERPROOF: Yes*
PAINTABLE: Yes
SANDABLE: Yes
DRILLABLE: Yes
SHAPEABLE: Yes
STAINABLE: No
CHEMICAL RESISTANT: Limited
EXPANDS WHEN CURED: No
SHRINKS WHEN CURED: No
CURED COLOR: Dark grey
GAP FILLING: Yes
*Not suggested to use on wood materials submerged or soaked in water
Will GorillaWeld bond plastic/vinyl/rubber?
Gorilla Weld will work well on many types of plastic; however, we do not recommend for use on polypropylene (PP), polyethylene (PE) or similar plastics, or any type of rubber with high oil or plasticizer content.
What does GorillaWeld work best for?
GorillaWeld is ideal for metal and plastic (see above) substrates. GorillaWeld does not sag so it is ideal for vertical surfaces
How should GorillaWeld be stored?
GorillaWeld should be stored in a cool, dry place. Store away from children and animals.
How do I mix GorillaWeld?
GorillaWeld should be mixed 1:1 for 20 seconds or until uniform prior to application.
Does GorillaWeld become hot during cure?
Yes, mixing the hardener and resin together creates an exothermic reaction and will generate heat during cure. Consideration should be taken on mixing vessel as not to melt.
How long do I have before GorillaWeld begins to harden?
GorillaWeld will begin to harden after 3 minutes. Adhesive should be applied prior.
What surfaces will GorillaWeld bond to?
GorillaWeld is particularly suited for metal, plastic and other rigid surface bonding.
Is GorillaWeld Food Safe?
GorillaWeld is not recommended for direct or indirect food contact and should not be considered food safe.
Why is GorillaWeld odour so strong?
GorillaWeld is based on methyl methacrylate chemistry which has a naturally strong odour. We suggest using in a well-ventilated area.
How do I remove GorillaWeld from body/skin?
Uncured: GorillaWeld can be harmful through skin absorption and it is strongly recommended that you wear gloves during use. If GorillaWeld is on the skin, try removing with a dry cloth or paper towel and then wash the area thoroughly with soap and water.
Cured: Cured material can be rolled off the skin. Remove as much cured material as possible and wash the area thoroughly with soap and water.
For medical emergencies, call 1-800-420-7186 anytime
How do I remove GorillaWeld from my surface?
Uncured: Wipe up as much material as possible with a dry cloth and clean any remaining product/residue with Isopropyl alcohol (IPA) or acetone following solvent manufacturer's instructions.
Cured: For removing cured/dried GorillaWeld, mechanical means such as sanding or chiselling.
What should I do if I think a human or animal has ingested GorillaWeld?
For medical emergencies, call 1-800-420-7186 anytime
(052427005410N)
| | |
| --- | --- |
| SKU | 052427005410N |
| Barcode # | 052427005410 |
| Brand | Gorilla |
| Shipping Weight | 0.1000kg |
| Shipping Width | 0.100m |
| Shipping Height | 0.100m |
| Shipping Length | 0.100m |
| Shipping Cubic | 0.001000000m3 |
Fast and effective

By:

Mark

on 8 January 2019

I used this to fix my broken shovel and it worked, and didn't need to buy a new one.




(5)
Others Also Bought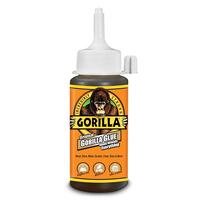 Gorilla Original Glue Bonds Virtually Everything W
$14.96
More From This Category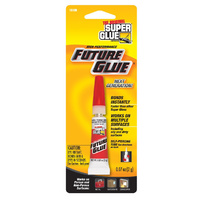 The Original Super Glue High Performance Future Gl
$18.00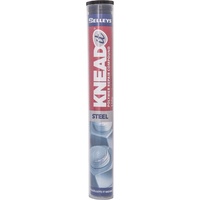 Selleys Knead It STEEL Expoxy Mouldable Putty 110g
$20.96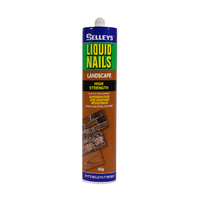 Selleys Liquid Nails Landscape Bricks Blocks Mason
$15.20